Announcements
Wind Ensemble Earns Top Honor in the State of Illinois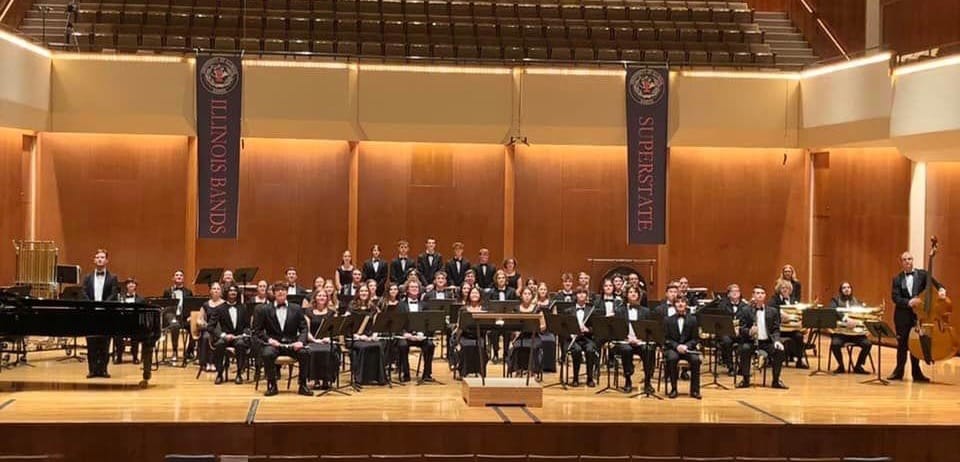 Congratulations to the OTHS Wind Ensemble. Their performance today, at the Illinois SuperState Concert Band Festival, earned them the distinction of top concert band in the state of Illinois. We can't wait to see you represent O'Fallon Township High School as the 2023 Honor Band.
The Marching Panthers are Headed to New York!
The O'Fallon Marching Panthers officially accepted their invitation to particpate in the 97th Annual Macy's Thanksgiving Day Parade in 2023.
Yesterday the students were presented with a $10,000 check from Macy's to kick-off the celebration, and the day concluded with a sea of confetti to the cheers of Let's Have a Parade!
We're excited to represent our school, our community, and our booster families in New York.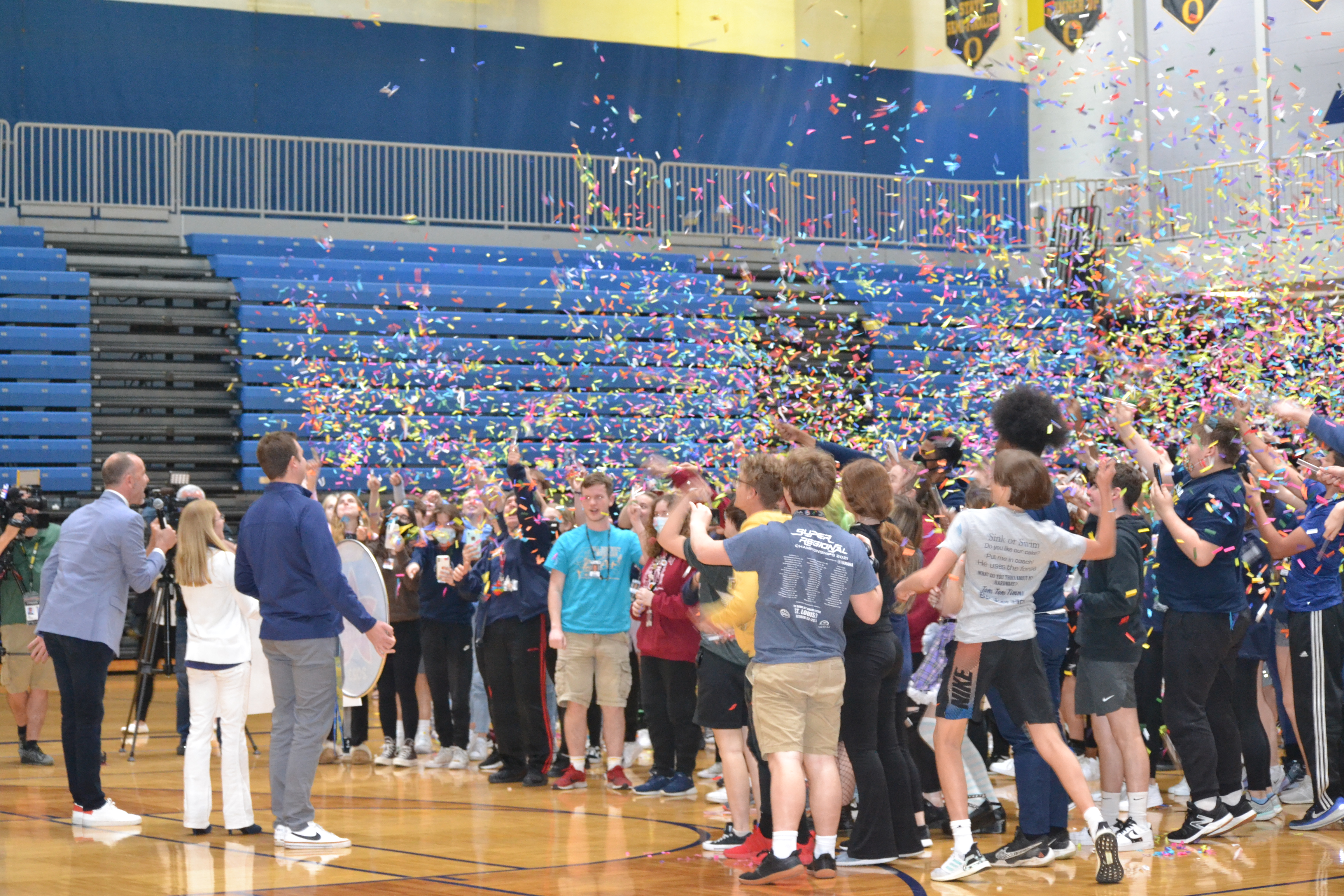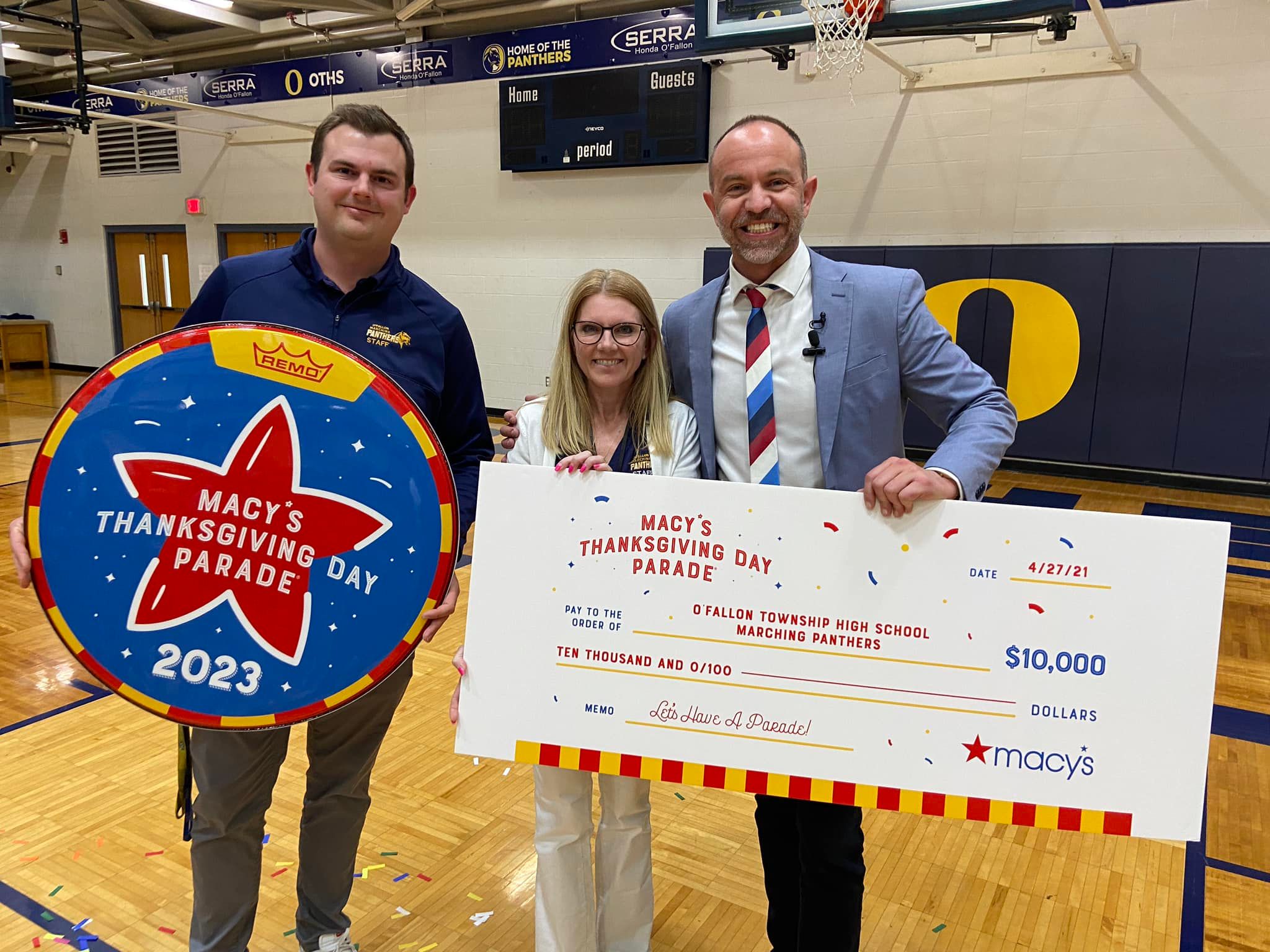 2022 Solo & Ensemble
On March 5th, OTHS band students particiated in the IHSA Solo & Ensemble Contest. Collectivtly, OTHS placed 3rd in Class AA.
Congratulations to our wonderful musicians.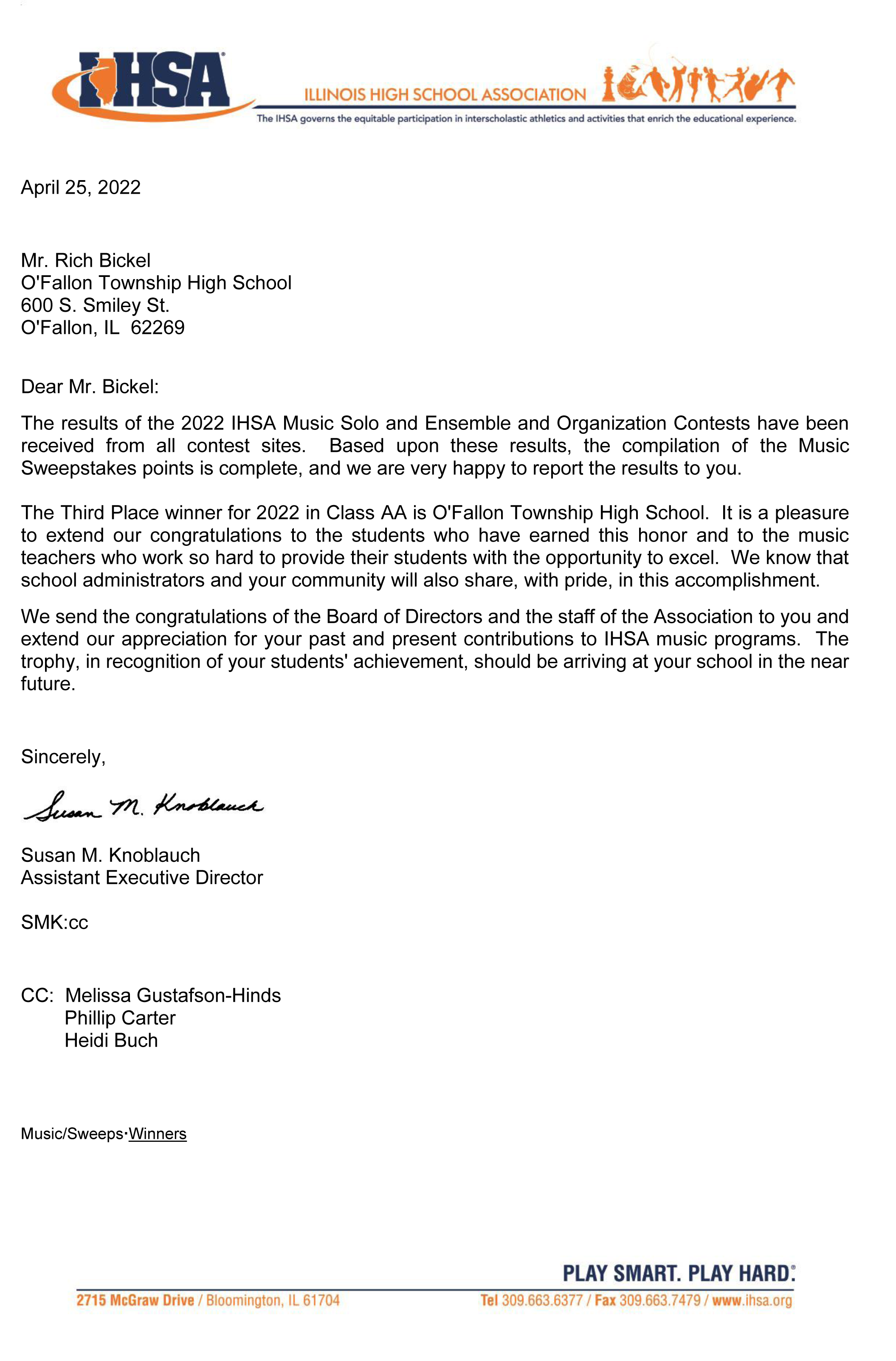 2022 NAMM SupportMusic Merit Award Recipients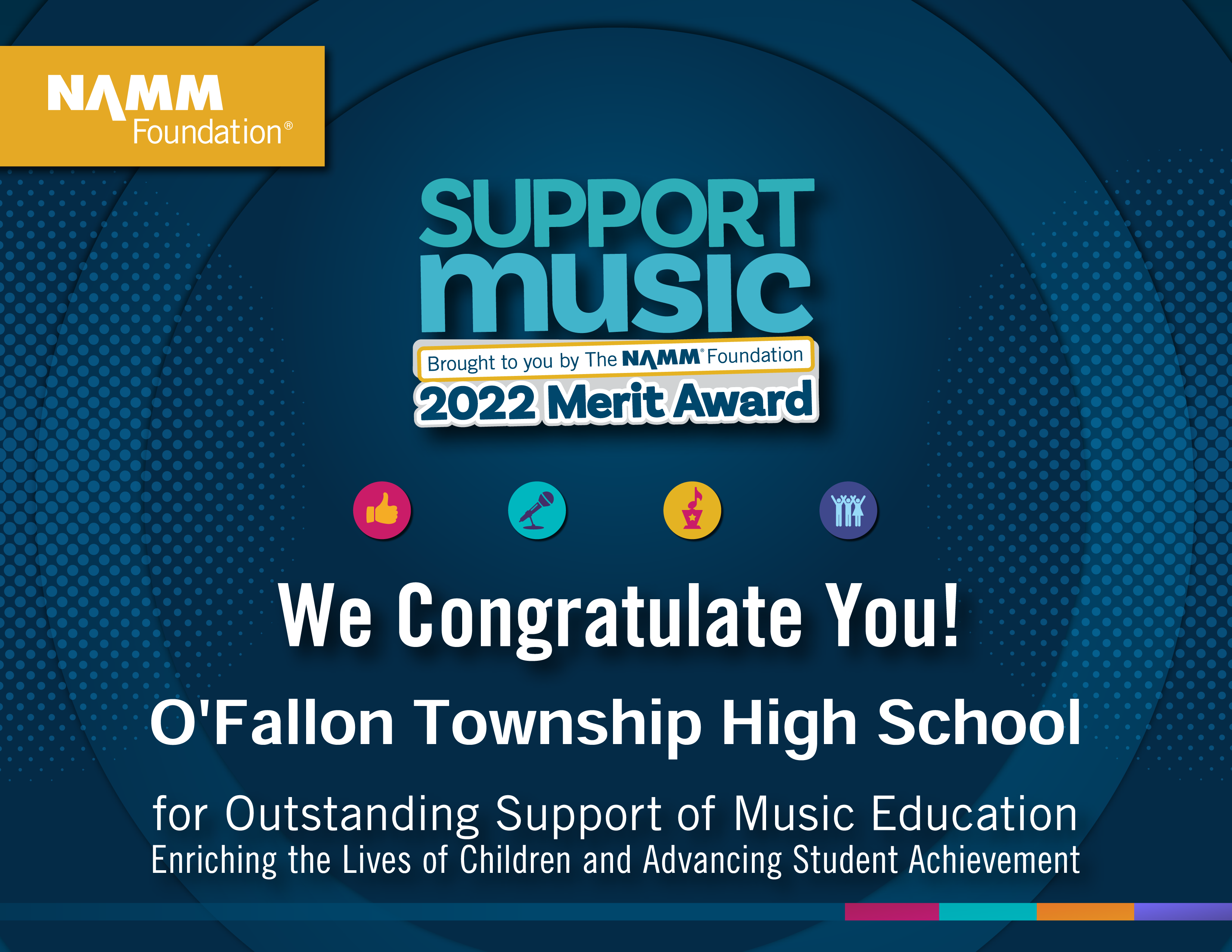 The NAMM Foundation has recognized O'Fallon Township High School for its commitment to music education with a SupportMusic Merit Award. This distinction is a "school-only" award given as part of the Best Communities for Music Education program.
We are extremely proud of our school, our community, and our band program!
That's a Wrap!
Anastasia, was a huge success!
Thank you to all our pit musicians:
Elliott Hoffman
Zach Fisher
Mitchell Jacquay
Tyler Mueller
Chloe Kayser
Kaci Snyder
Emma Curtright
Miles Maxwell
Jordan Gunther
Lily Kruse
Joel Lambries
Darian Hawkins
Jackson Glover
Isabella Saldana
Ben Smith
Claire Glover
Chris Taylor
Andrea Young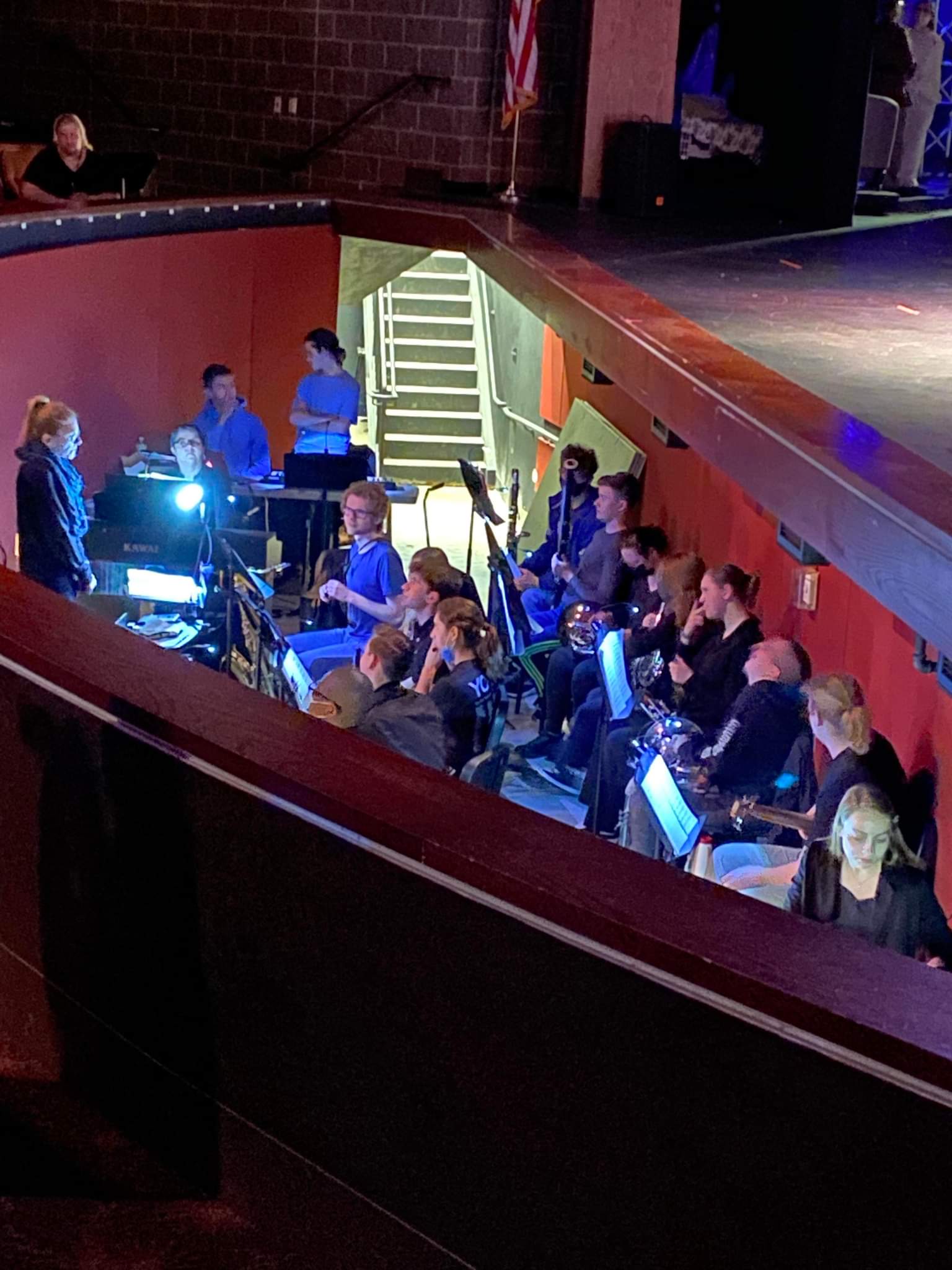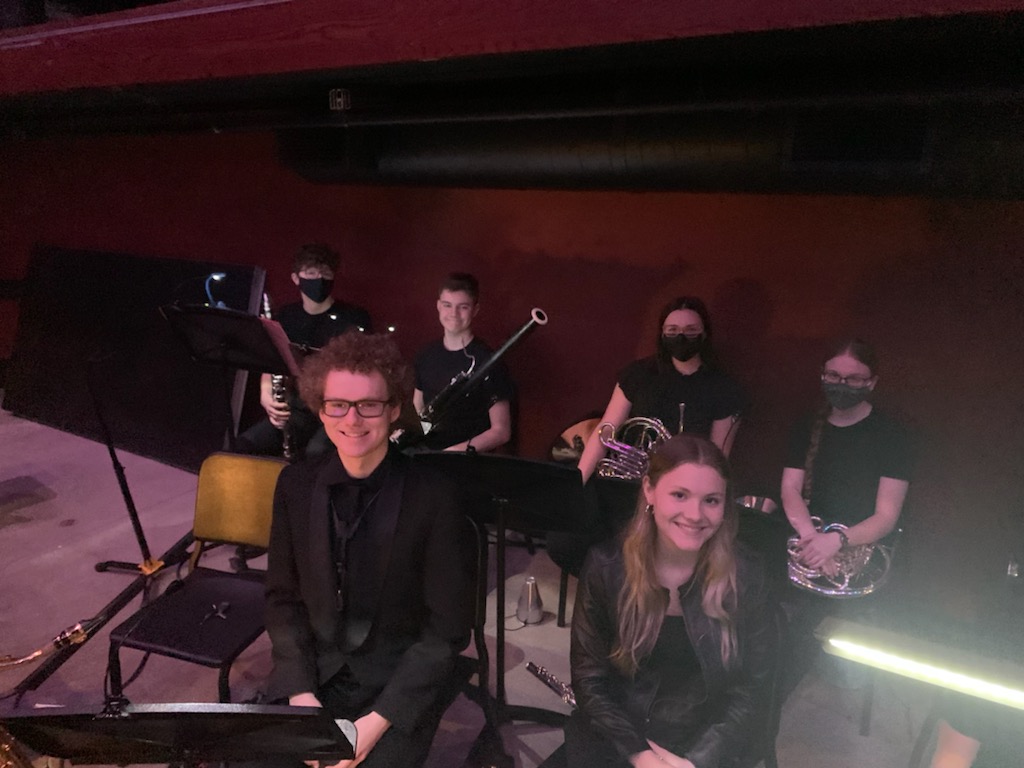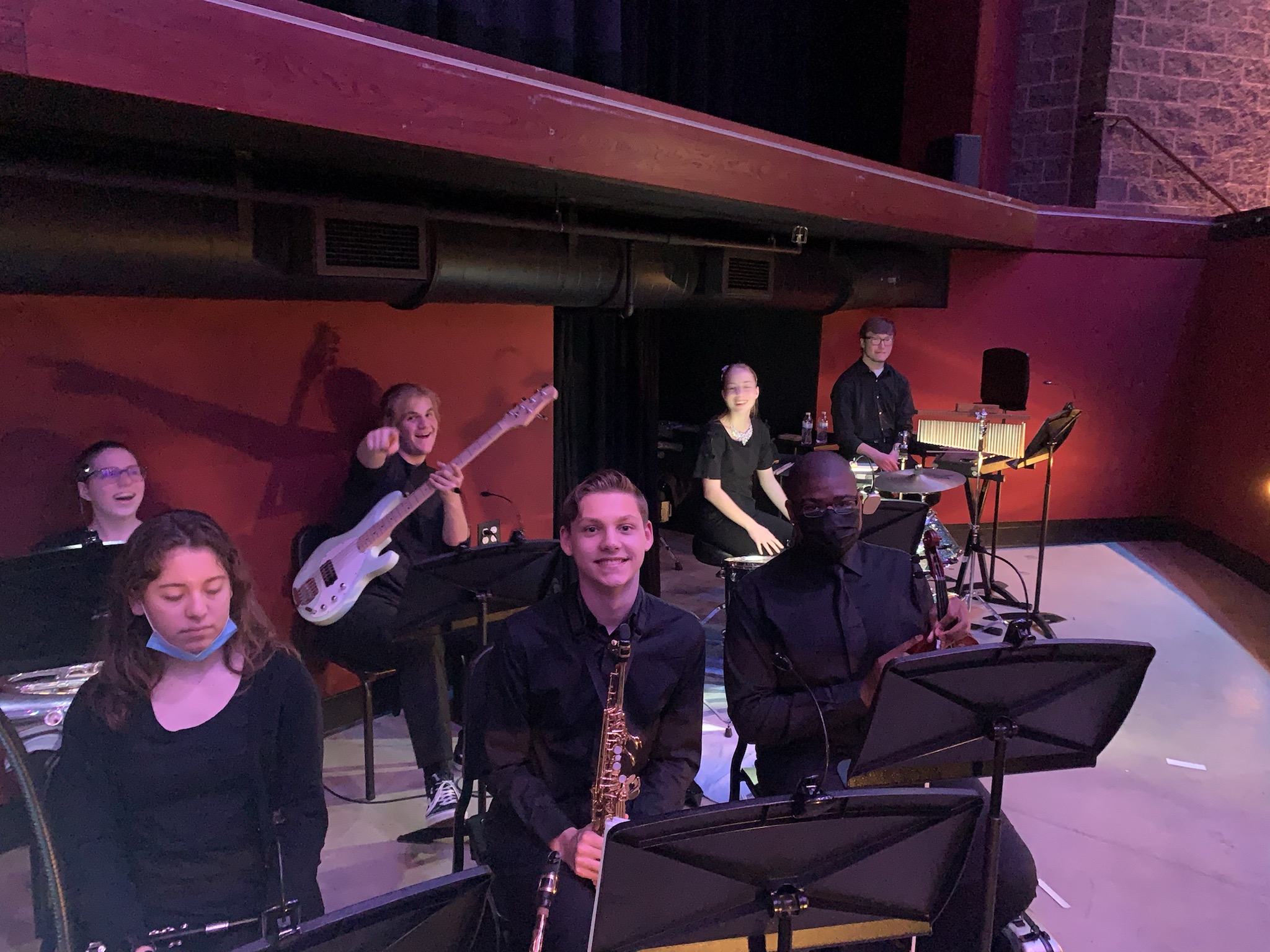 2022 Rose Bowl and Parade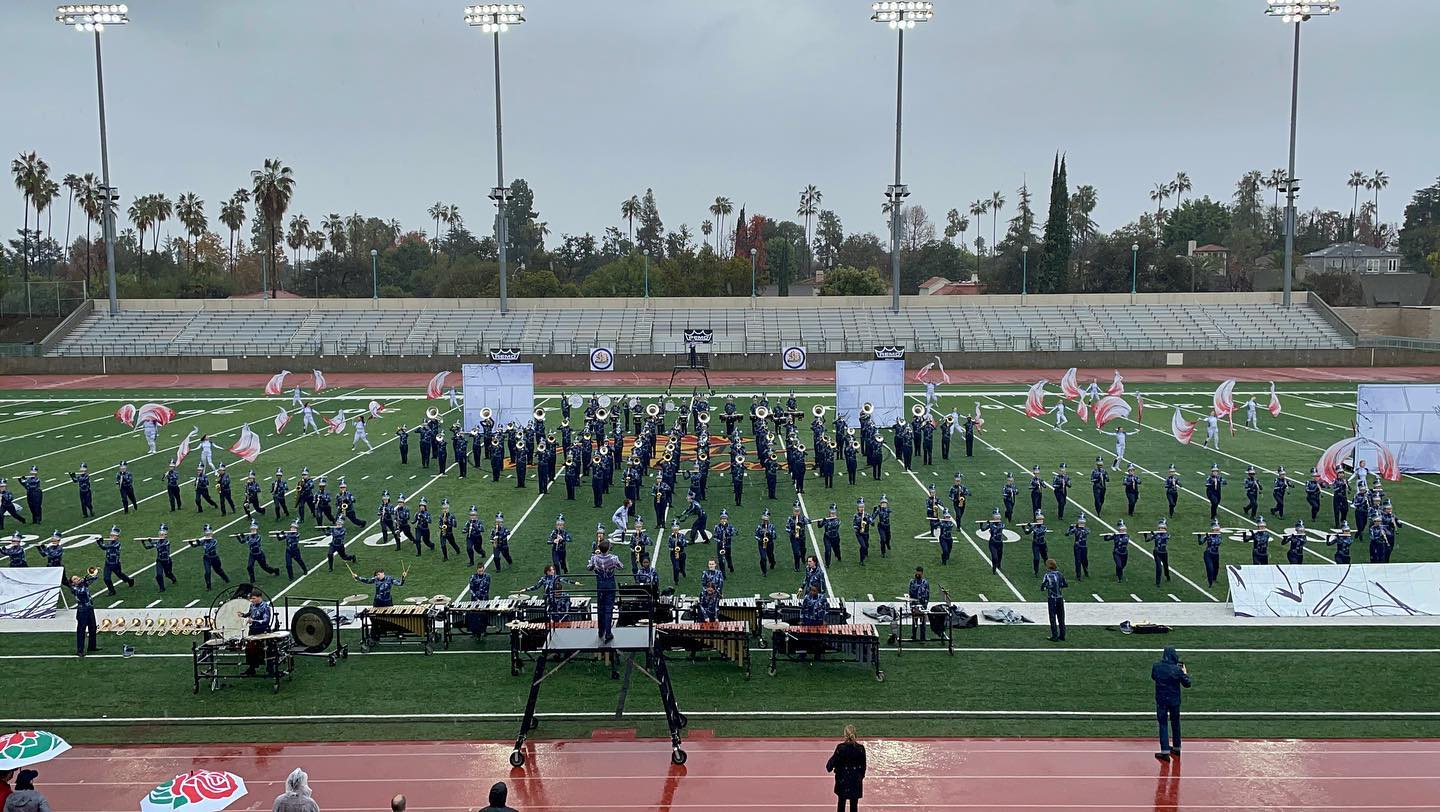 After a nearly 2 year wait, it finally happened! Congratulations once more to the Marching Panthers on an amazing performance at the Rose Parade!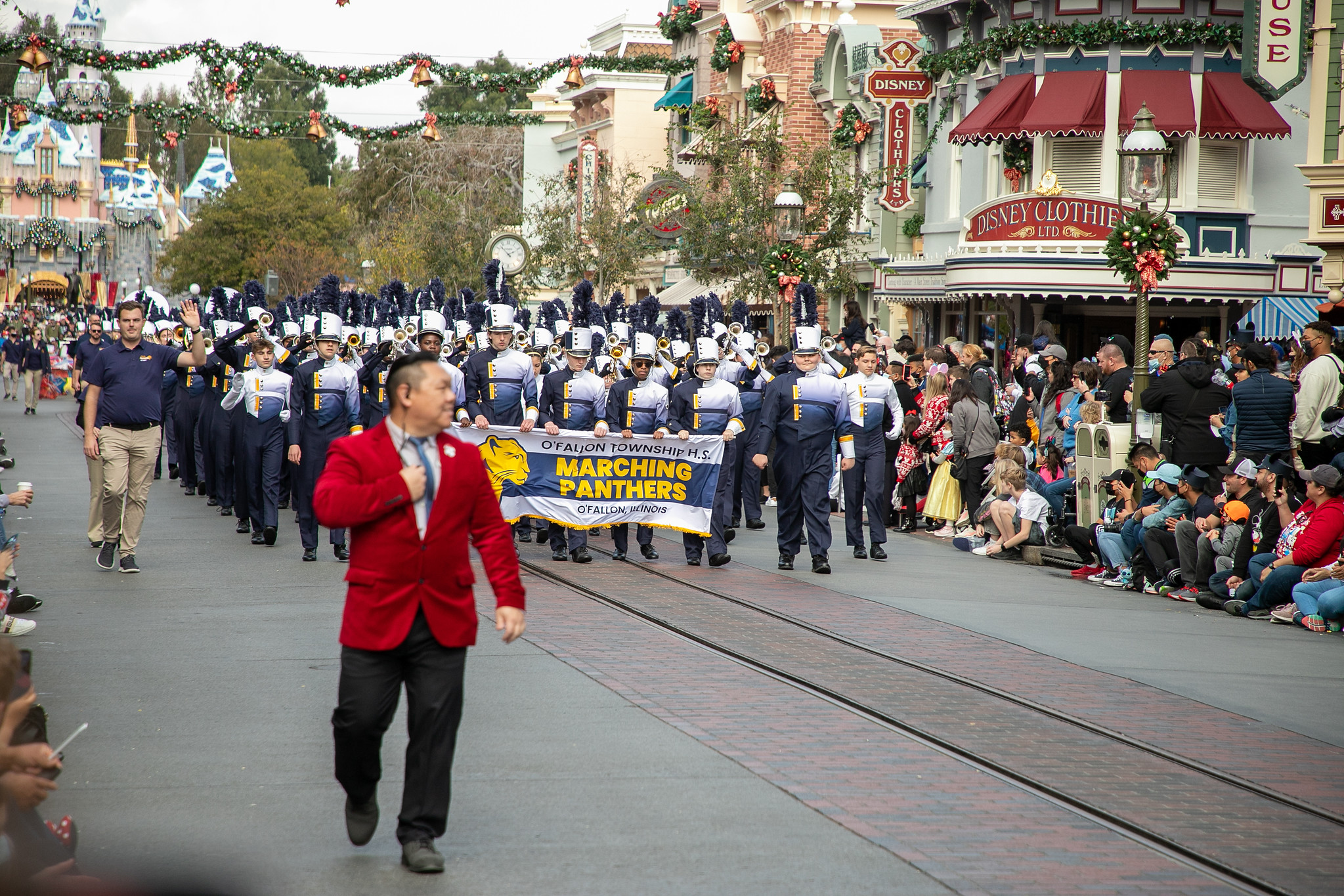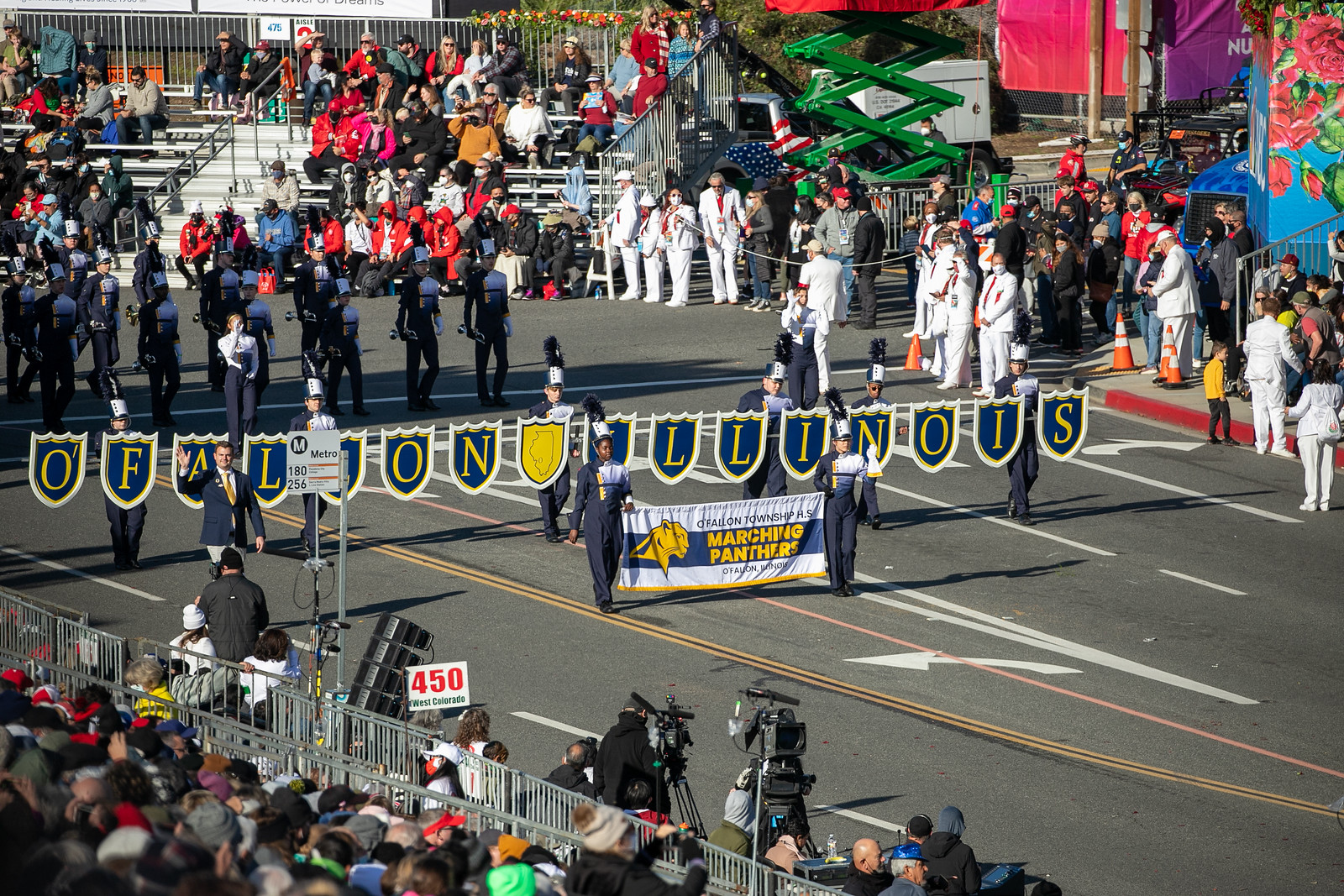 2021 BOA Grand National Championships - Semifinalists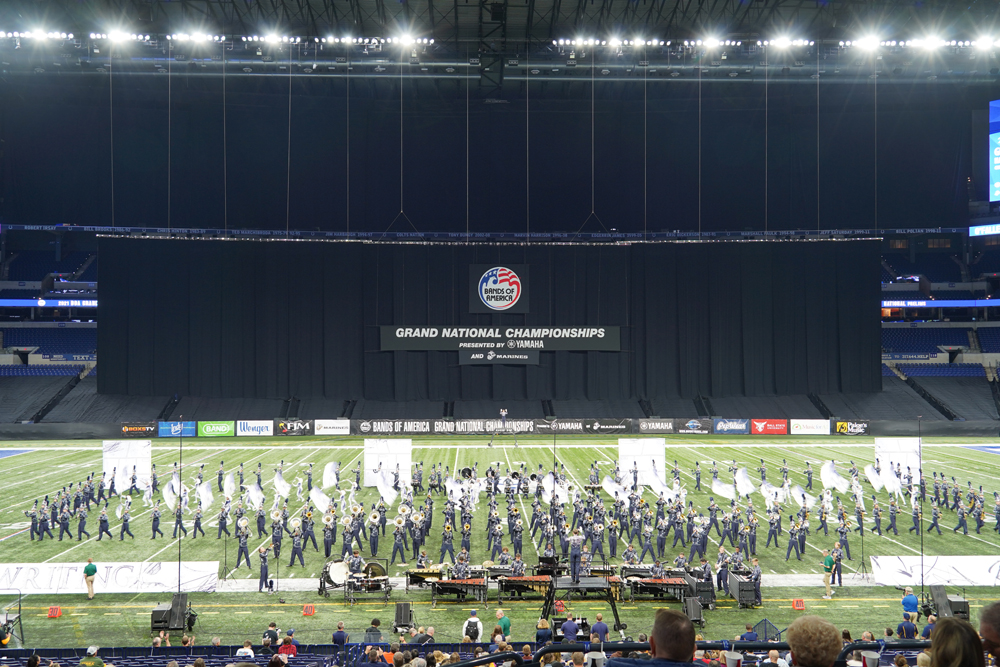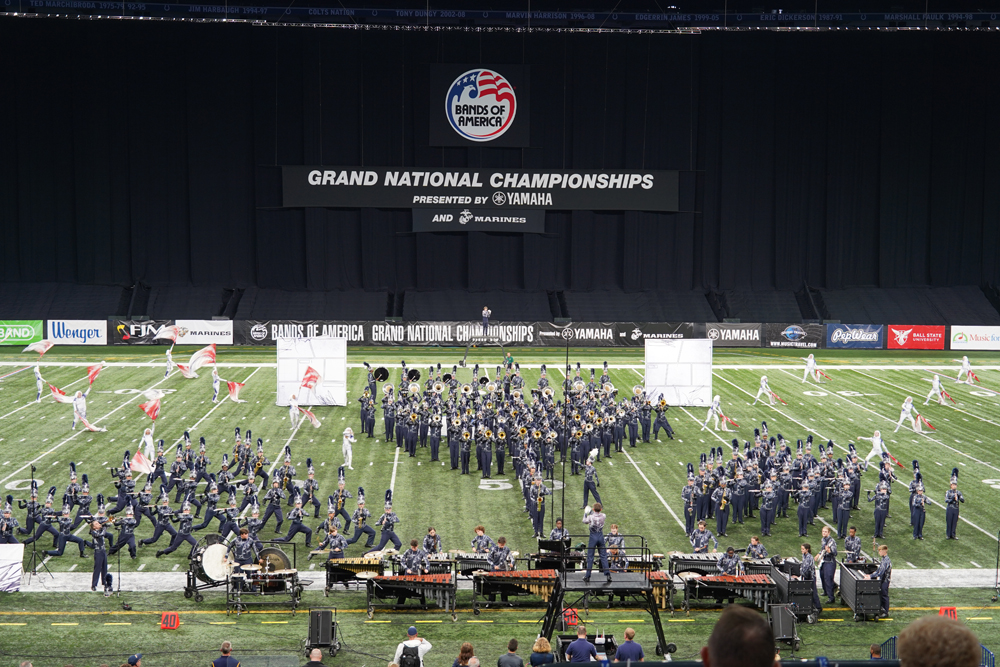 The Marching Panthers ended their competitive season this afternoon with an amazing semifinals performance at Grand Nationals and 18th place overall.

Congratulations to band members and color guard - we're so proud of everything that you've accomplished this season! And a huge thanks to our chaperones, boosters, and transportation team for making this event possible!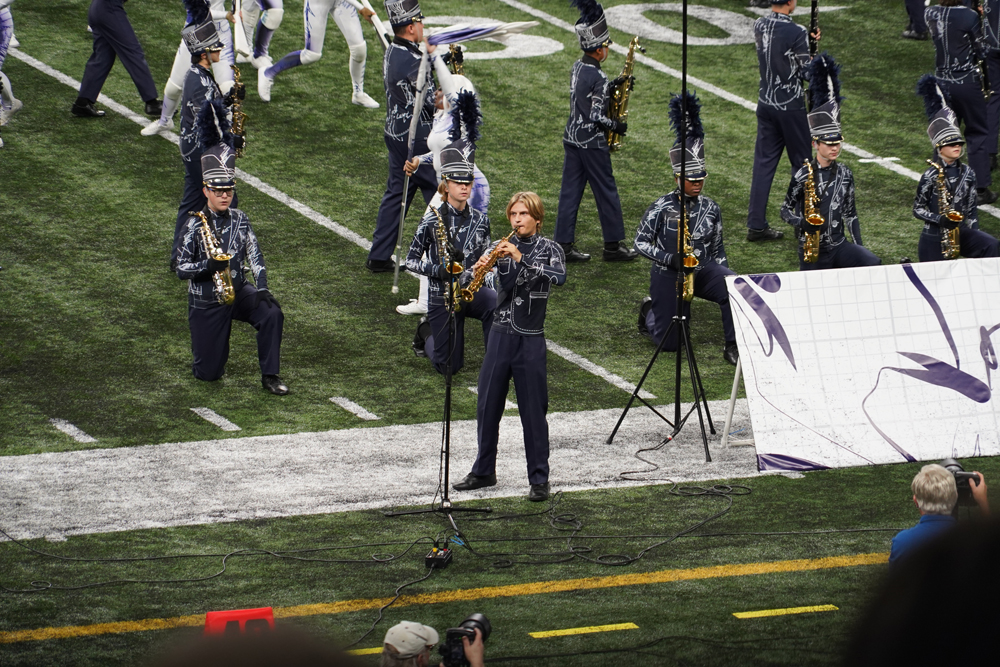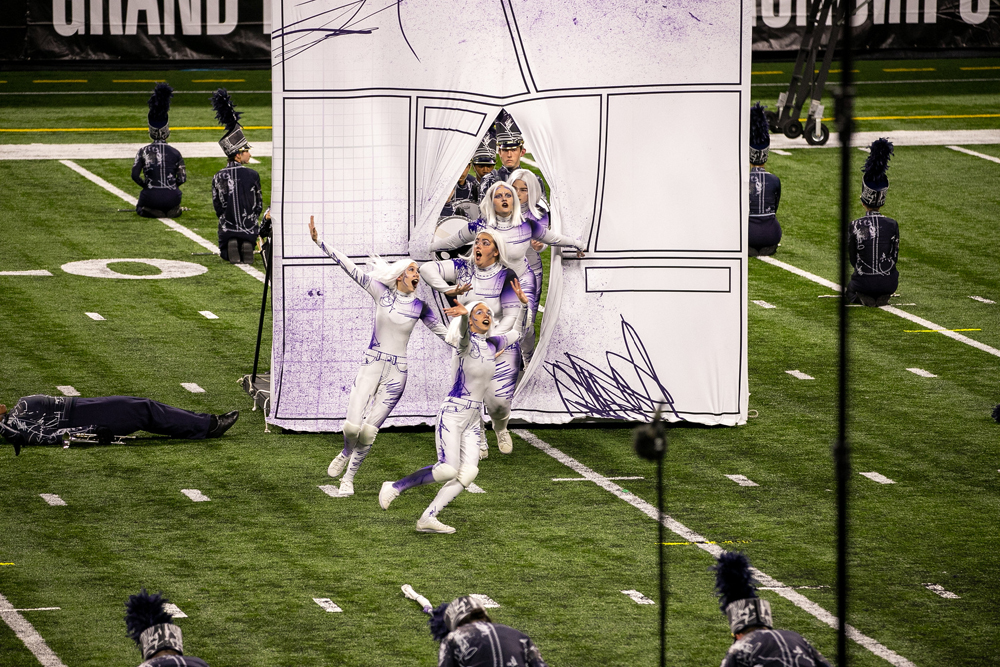 2021 Greater St. Louis Marching Band Festival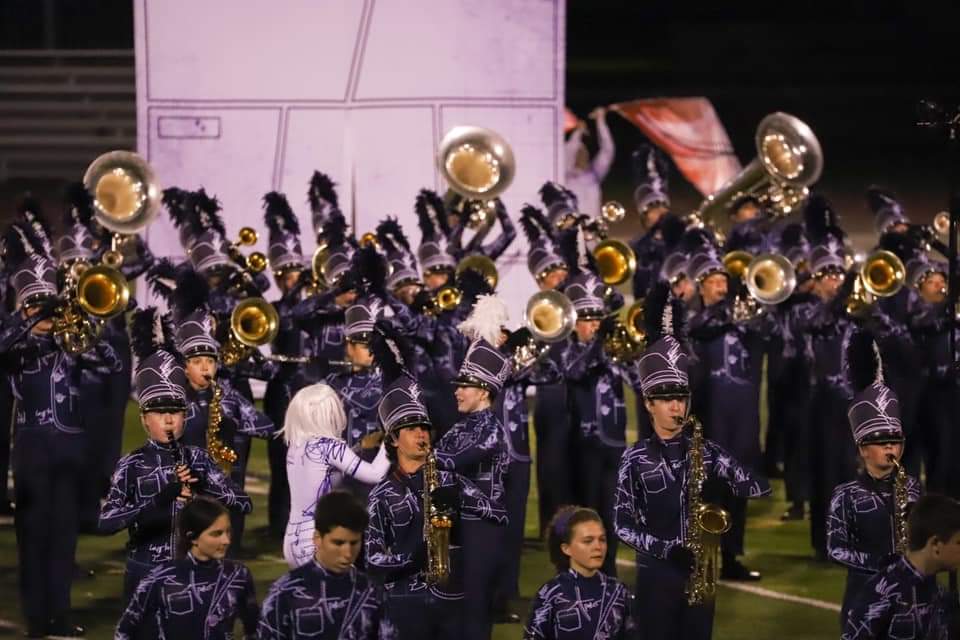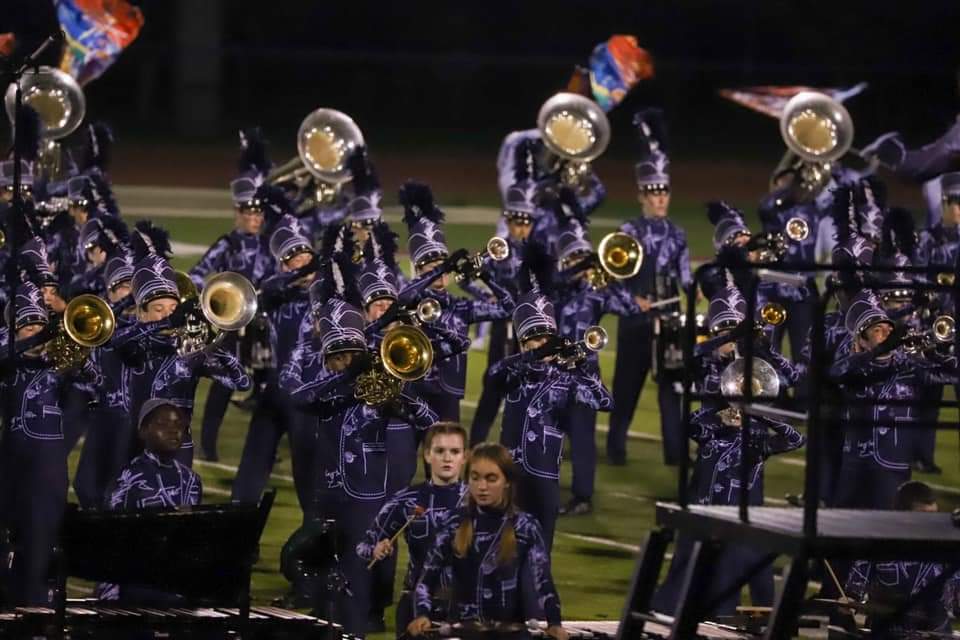 The Marching Panthers take the auxiliary, visual and general effect captions and are class and Grand Champions at the Greater St. Louis Marching Band Festival!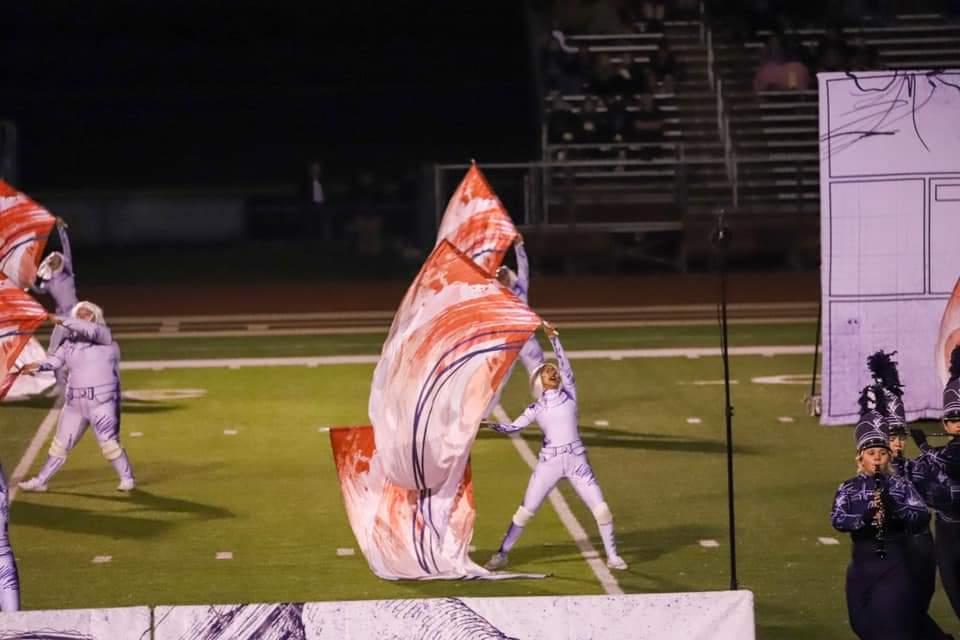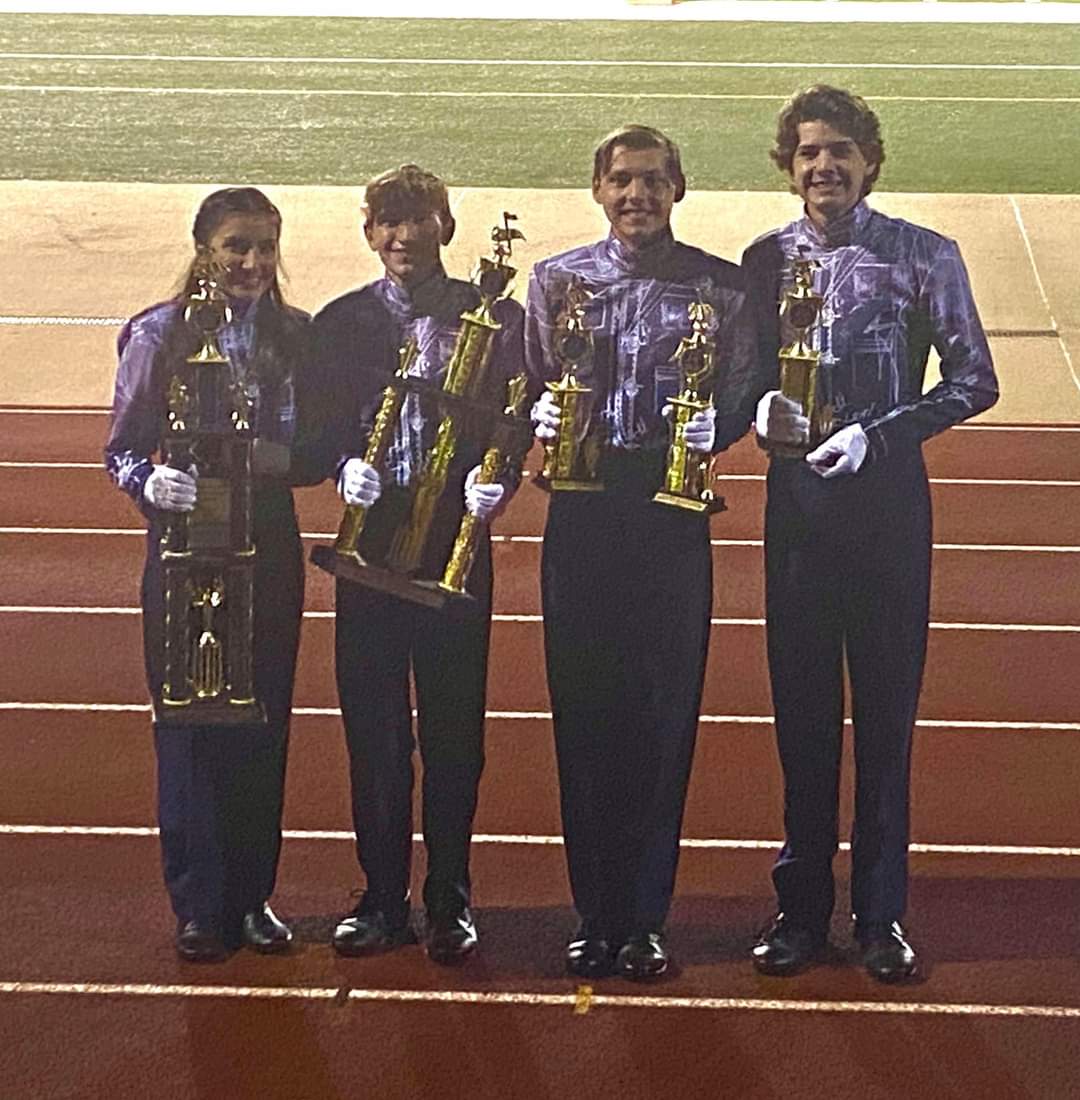 2021 BOA Super Regional St. Louis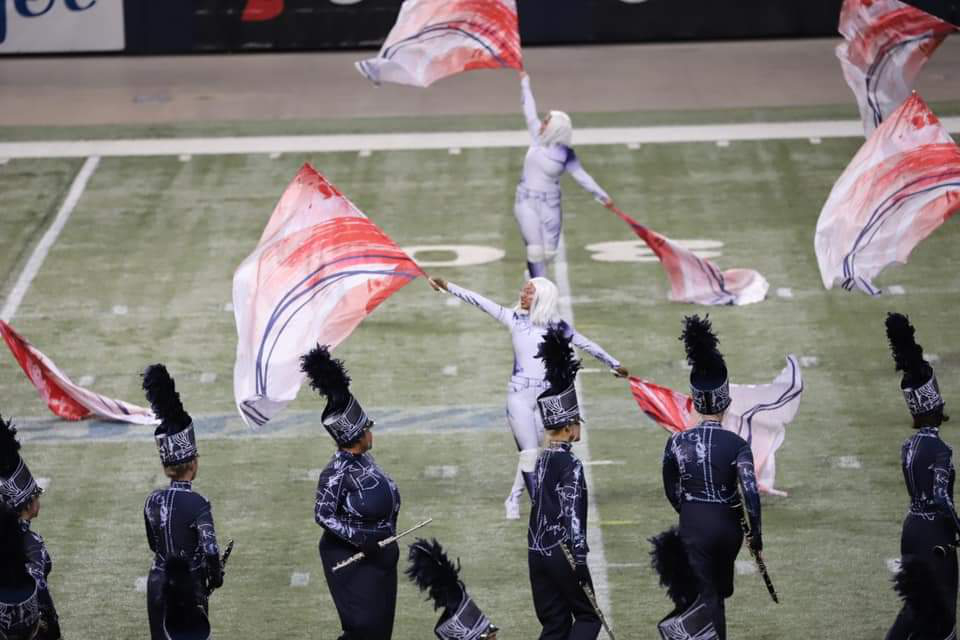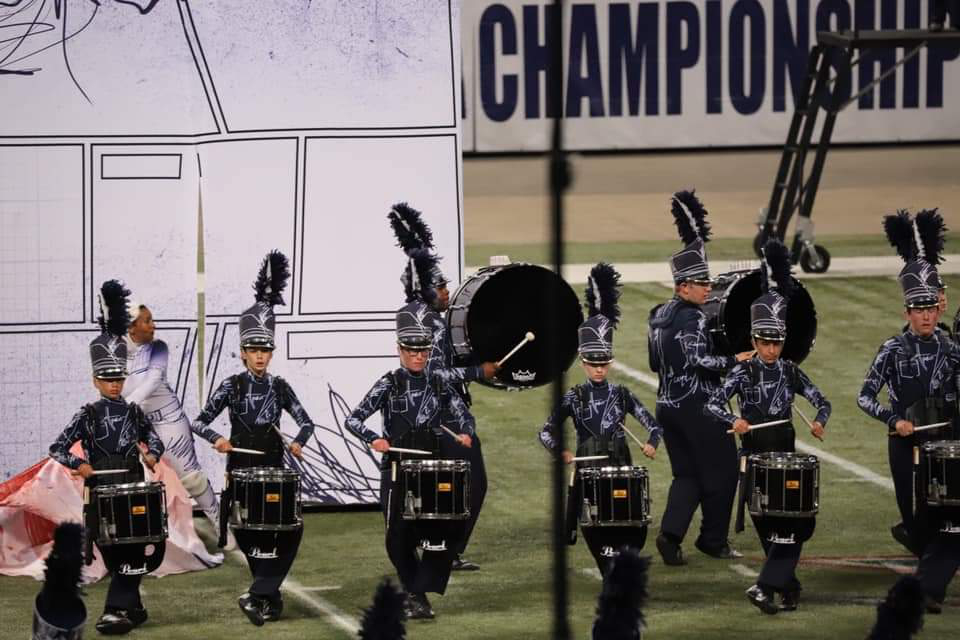 2021 BOA St. Louis Super Regional Finalists (9th Place Overall) Proud of our Marching Panthers! Coming out with a strong finish against some amazing bands.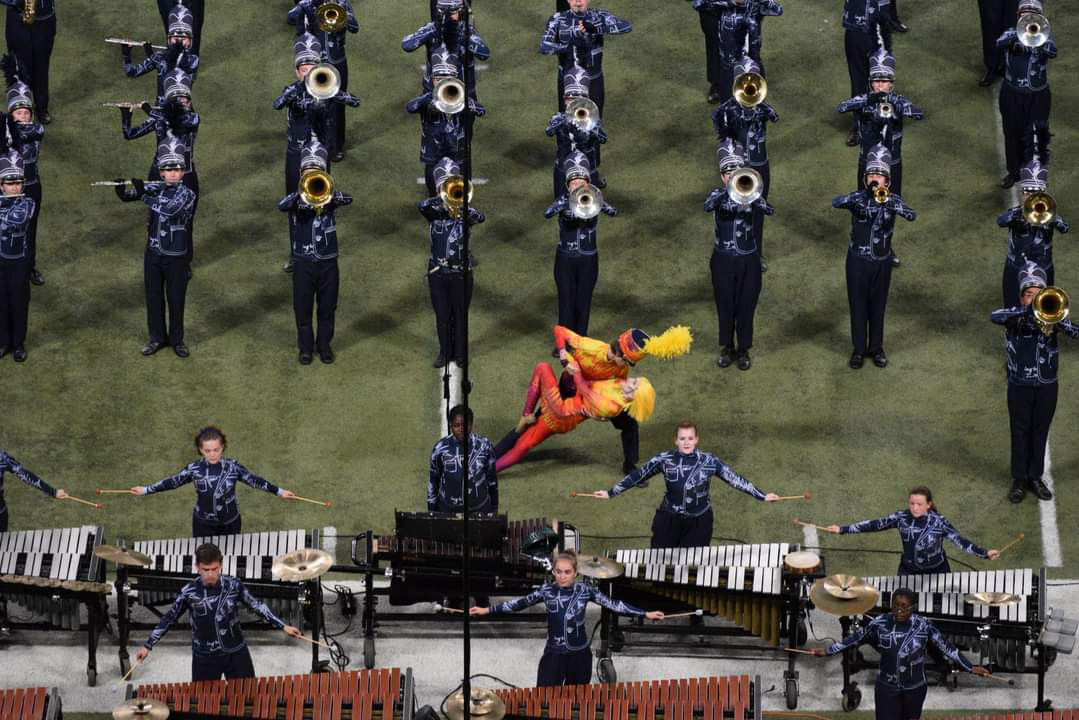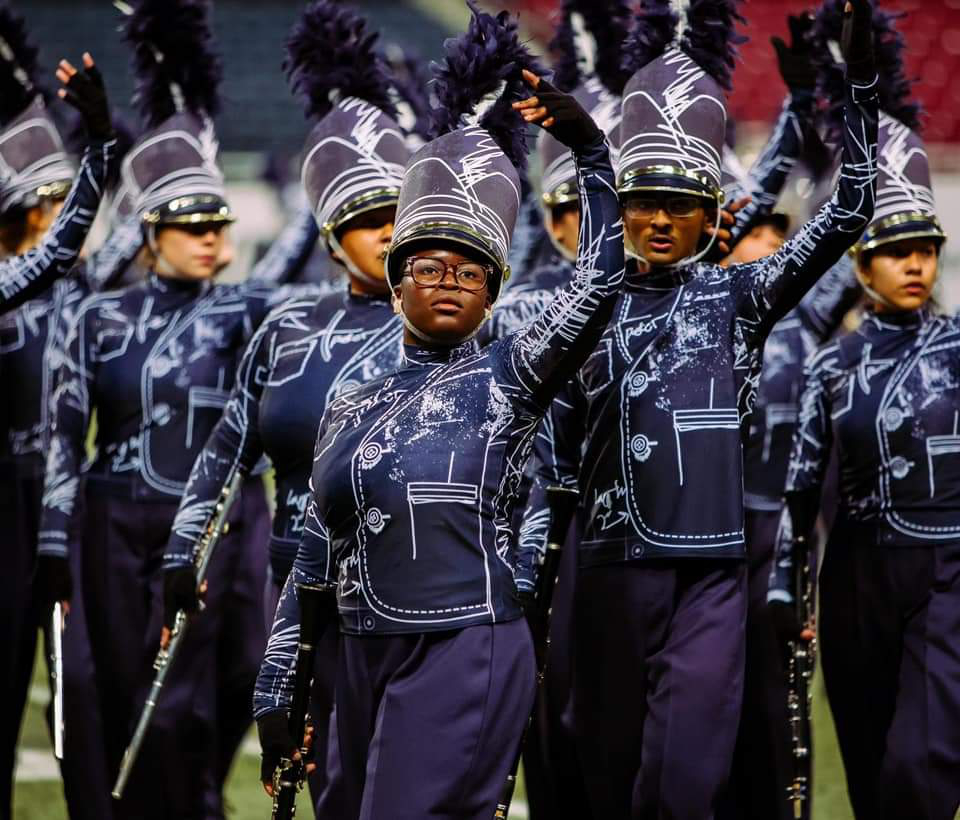 2021 Lincoln-Way Marching Band Invitational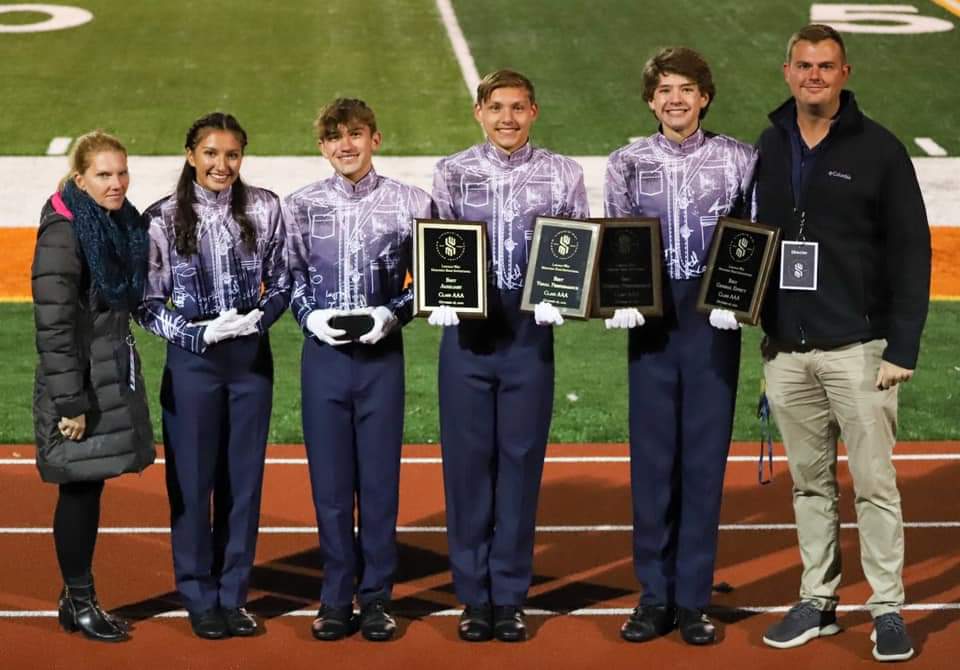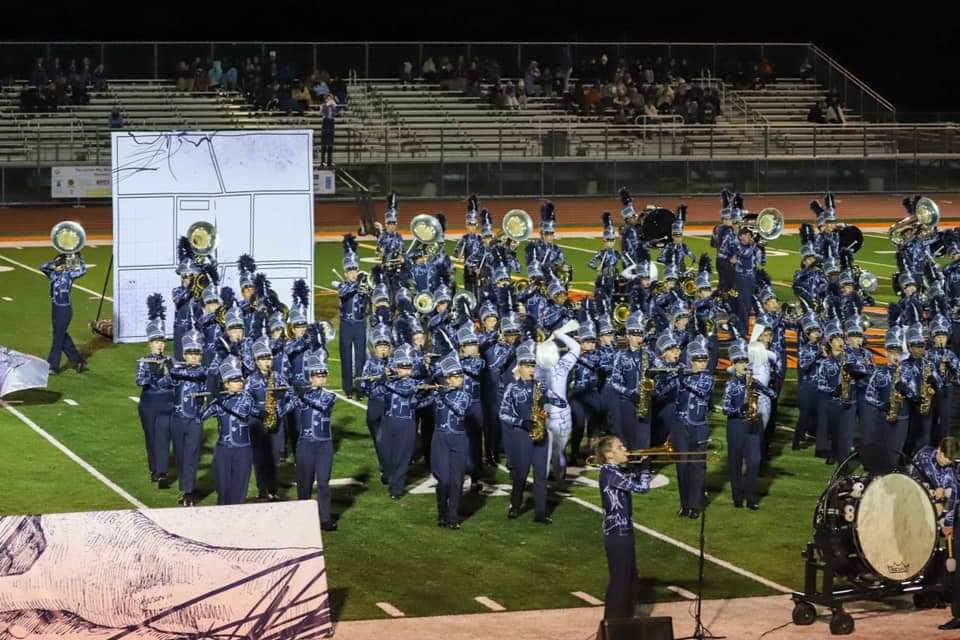 O'Fallon wins four captions (auxiliary, music, visual & general effect), is the 3A champion, and Grand Champion at Lincoln-Way.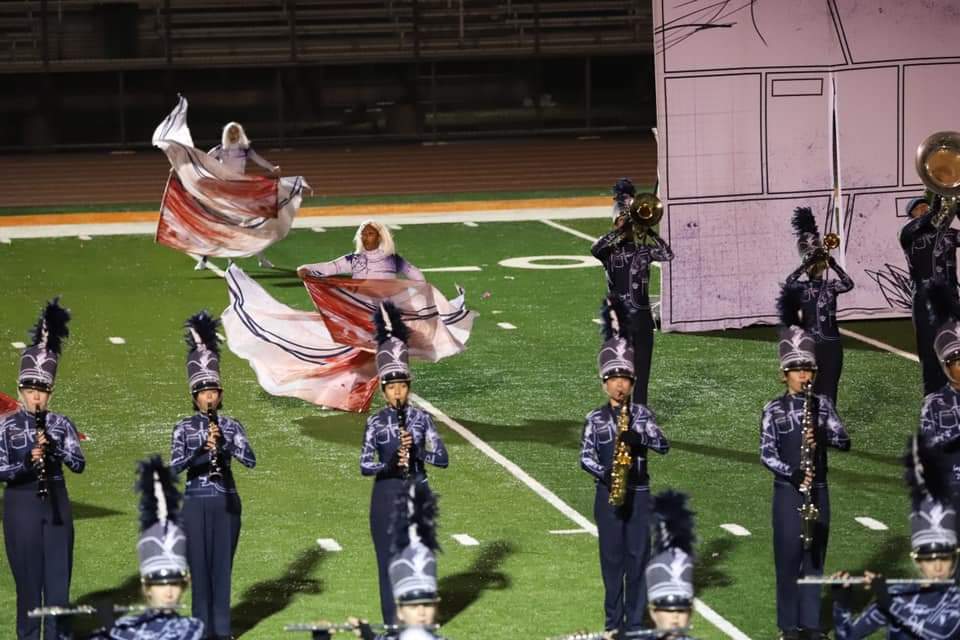 2021 Tiger Ambush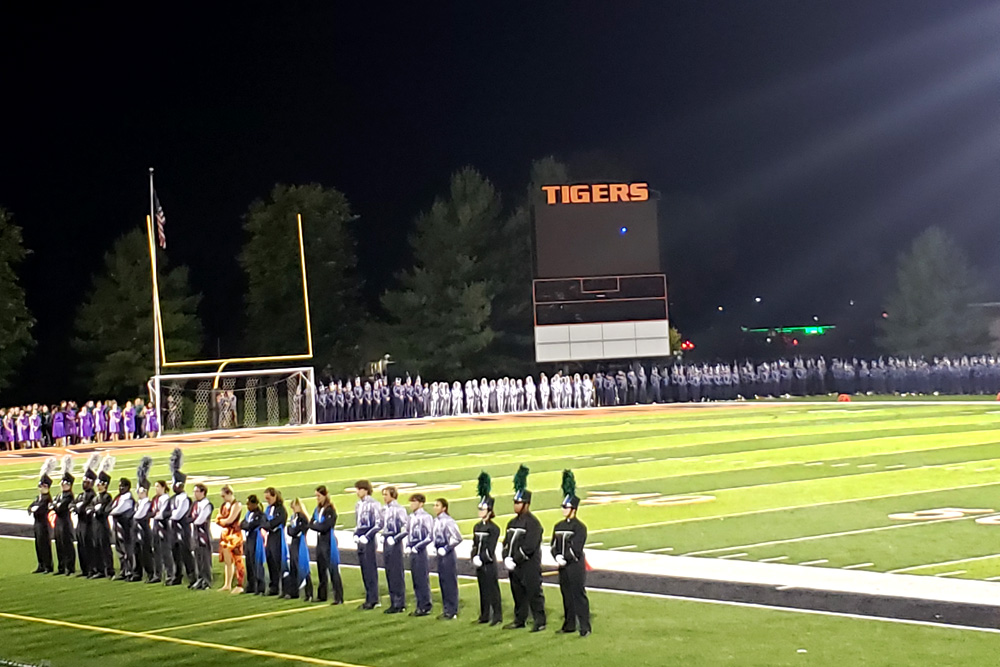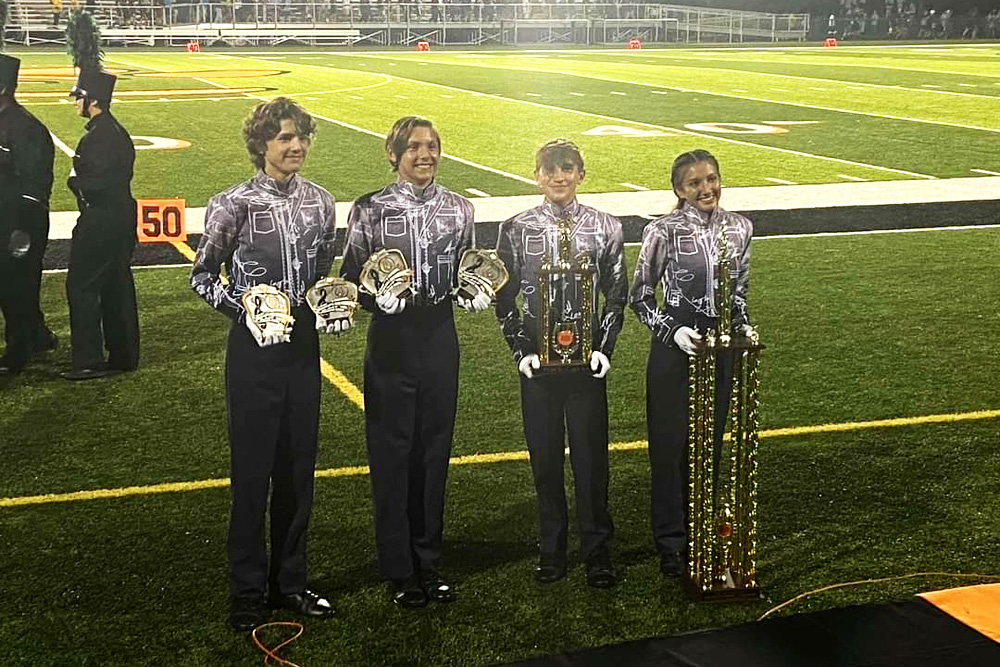 Congratulations to the Marching Panthers who swept all 4A captions (Music, Visual, Percussion, and Color Guard) and are 3A/4A Grand Champions of the Tiger Ambush Classic in Edwardsville! View Scores
2021 SIUE Percussion Festival


On August 28th the Marching Panthers Percussionists traveled to Granite City to participate in the 2021 SIUE Percussion Festival.
They had an amazing performance, and brought back a first place win to O-Town.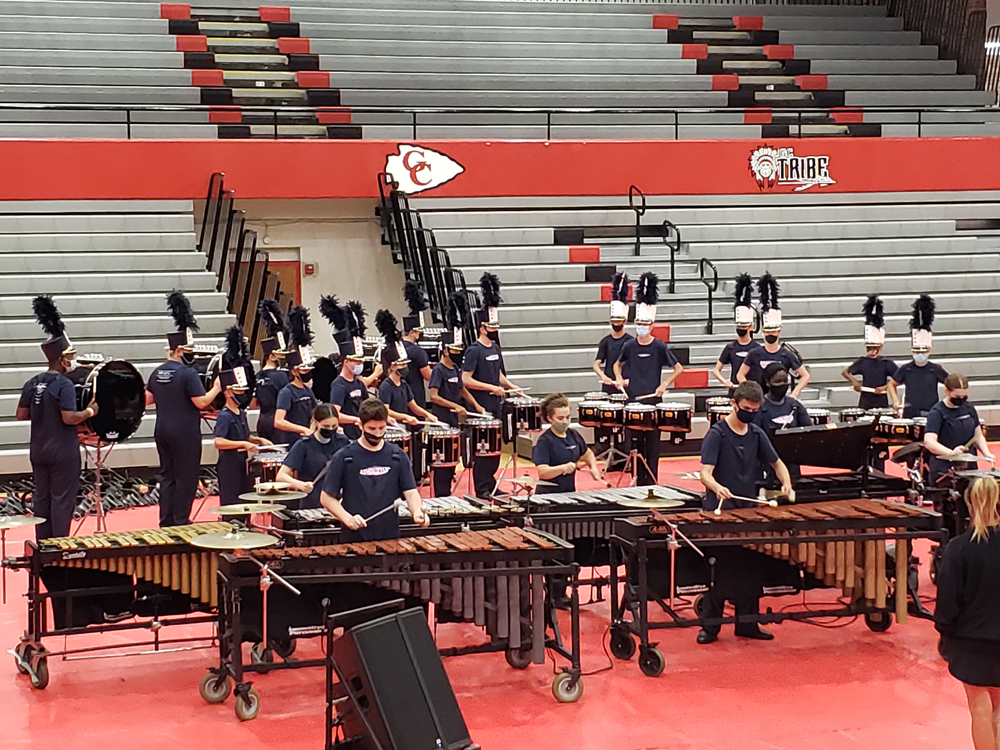 2021 Cardinal's Game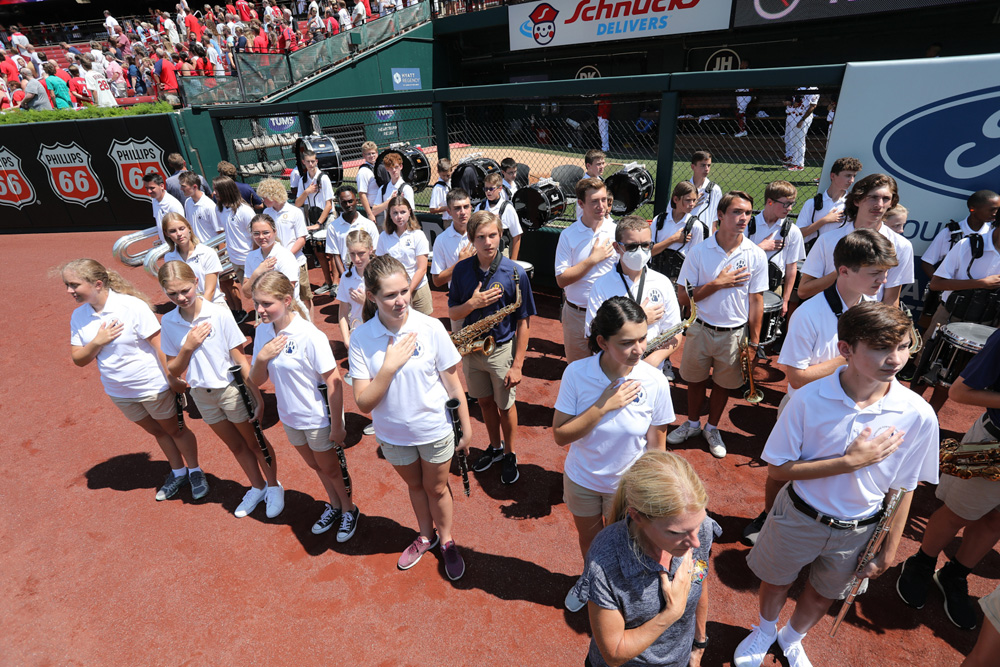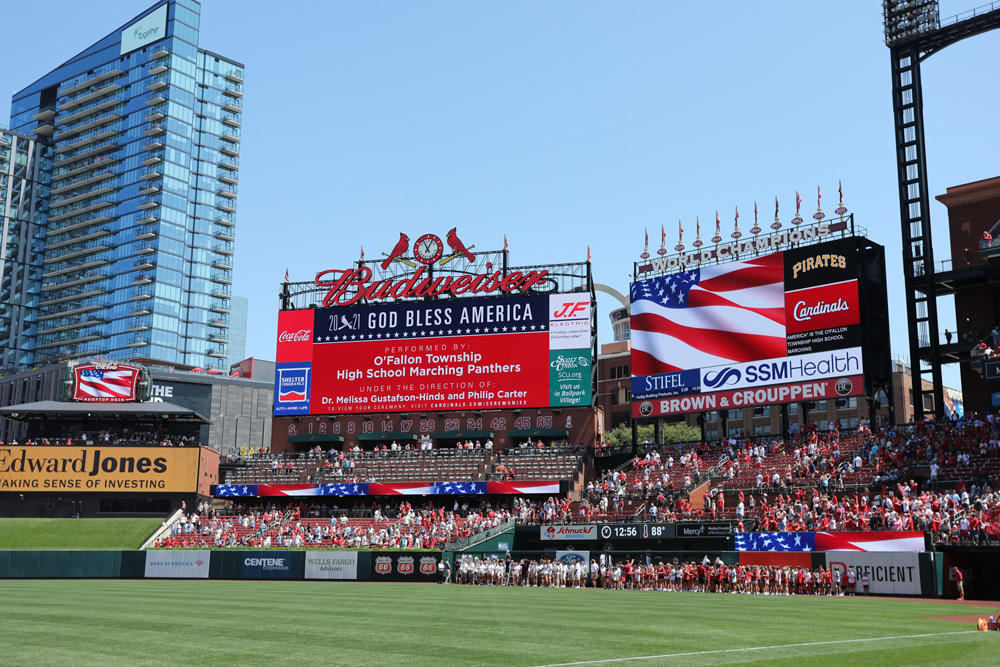 The OTHS Marching Panther Leadership, Seniors, and Drumline had the privilege of playing God Bless America at the Cardinals game on August 22nd.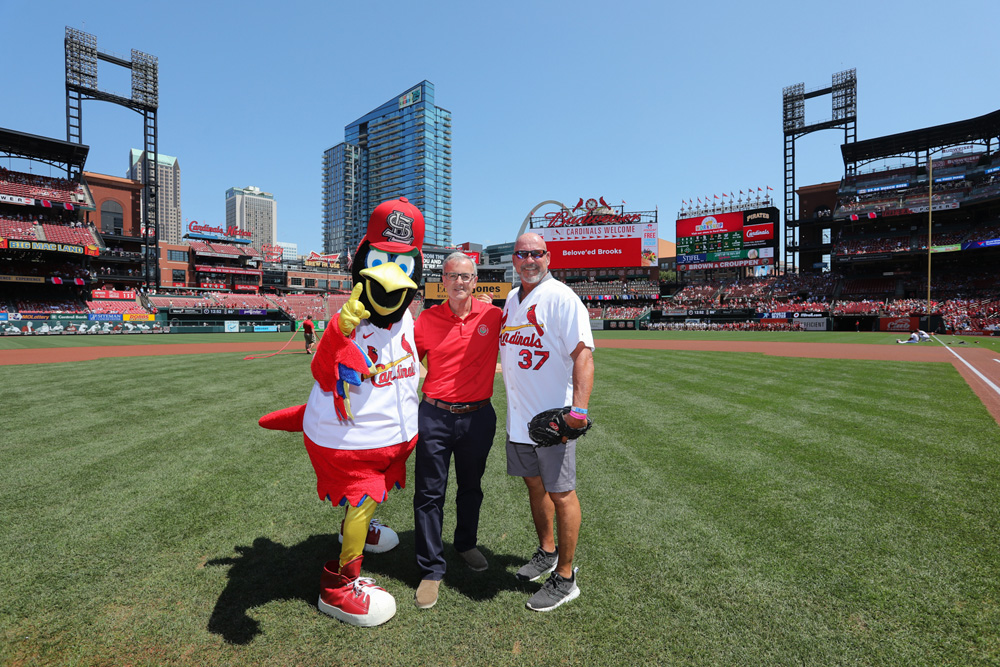 Dr. Miller (Tournament of Roses President) also threw out the Honorary First Pitch of the game.